Keynote Forum
President of Spanish Society of Radiosurgery Associate Professor of Neurosurgery, University Complutense of Madrid Spain
Time :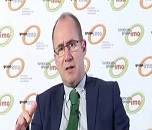 Biography:
Dr. Kita Sallabanda Diaz has more than 25 years of experience in the field of Neurosurgery. He currently works in this specialty at the Genesiscare Madrid - Arturo Soria, while he is an external medical consultant at the San Carlos University Clinical Hospital in Madrid. Author of Treaty of Radiosurgery (2012) and Guide of Brain Metastases (2015), has published in numerous scientific media of the Spanish and world scene. He is the current President of the Spanish Society of Radiosurgery and the Neuro-Oncology Committee of the Clinical Hospital of Madrid. In the field of teaching, he is an associate professor at the Complutense University of Madrid, a tutor for residents of the San Carlos Clinical Hospital in Madrid and is a professor of the International Master's Degree in Advanced Technological Applications in Radiation Oncology. Dr. Kita has given more than 100 oral and poster presentations at the National and International Congresses and also an active invited professor. His area of expertise mailnly lies in Cyberknife SRS, Epilepsy, Cognitive functions and brain metastases.
Abstract:
Every year in the U.S., 180,000 new cases are diagnosed and 20,000 of them with medular compression. 5-14% of patients with cancer develop Spine metastases, from tham 33% Bone 4% Leptomeningeal 0.1-0.4 Intramedullary
60% of Spinal Metastases appear in patients with: Breast Cancer Lung Cancer
Prostate Cancer (7.4%)
The treatment basicaly is based on: SURGERY, RADIOTHERAPHY COMBINED TREATMENT, RADIOSURGERY
Until 1990 the first treatment was Radiotheraphy, later we come back to surgery, Patchel trial demostrate the superority of surgery (Lancet 2005), Clase I evidence
From these time we take in considerstion NOMS and SINS criteria-
The developmant of techonlogy in radiotheraphy make us to chamge the paradigm.
Radiosurgery take a very important role in the treatment of sipne tumors
The combine treatment is our first option, surgery + radiosurgery.
The principal indication of Spine Radiosurgery as a primary treatment are: residual tumors after surgery, recurrent tumours, multiple lesión, unfarable localization, high risk for open surgery.
We present our seria, experience and biblography revisión about the combine treatment in spine pathology